Company history
Firm PERMANENT K&M (CJSC) established in 1993.
Initially the company was focused on support of industrial enterprises within new economic environment,
as well as on reestablishing relations among Russian and foreign enterprises, producers of equipment and consumables
from Europe, America, Asia.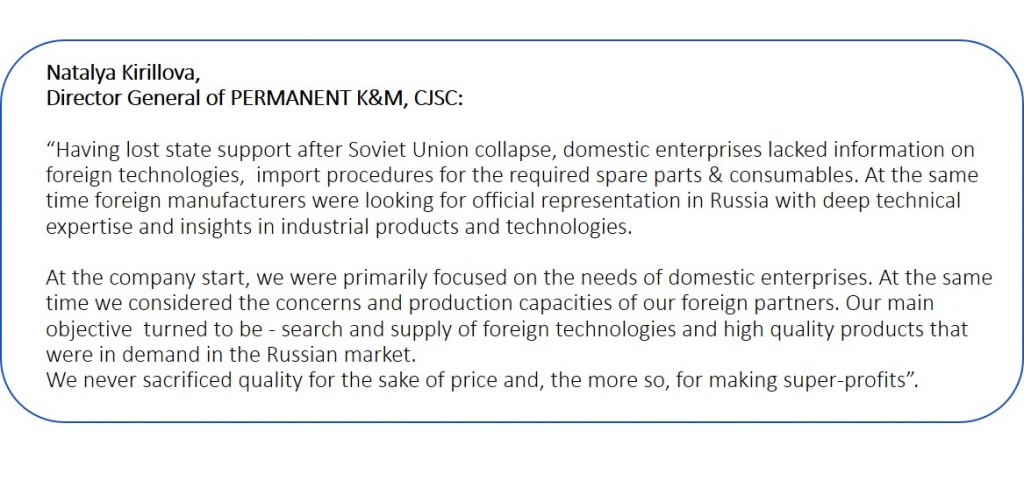 The company's backbone vision is in the individual approach to the Customer's problems and tasks.
It's then when the "from the Customer's need to the product" concept underlaid the company's philosophy.

1995
, PERMANENT K&M, together with the German company
PAUL-Heizung GmbH
and with the support from the Voronezh city government,
launched an autonomous boiler plant for heating of the Main Department of Internal Affairs in Voronezh
with the most advanced automation system at that time.
In 1995-1997, within the contract with the Moscow government, engineers of PERMANENT K&M, together with German partners Maurer Soehne and Koegler Schornsteinbau GmbH, implemented a project of adaptation of a new steel-plate chimneys construction technology for Moscow district heating plants. Seven steel-plate chimneys, 110 m high, with outer pipe diameter 3.6 m, were designed in Germany and delivered to Russia in the course of three years. Later on production of such chimneys was launched in Russia, in the town of Chekhov.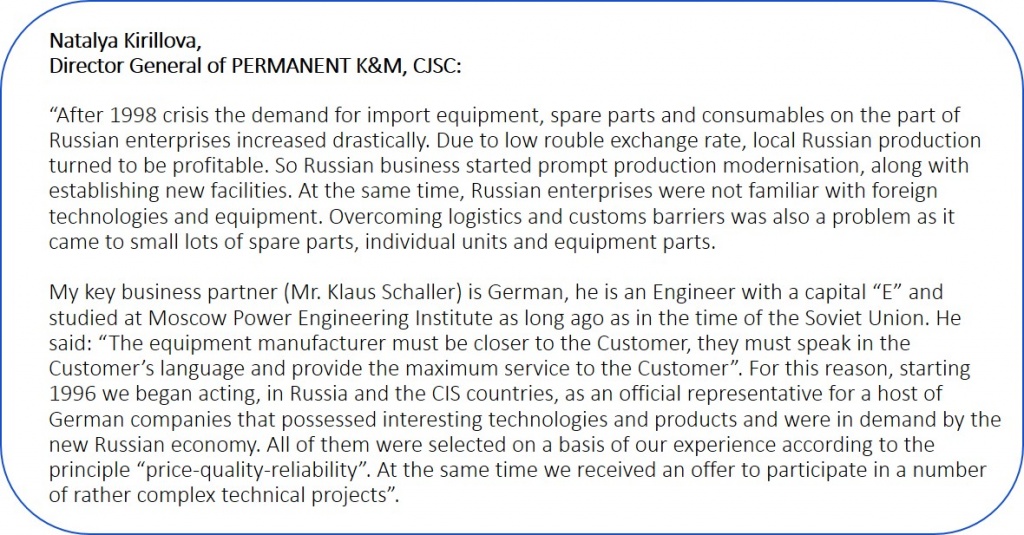 The company continues to participate in comprehensive enterprises modernisation and renovation projects,
as well as in establishing of new facilities.
In
1999-2000
, PERMANENT K&M carried out overhaul of a press
manufactured by Schloemann Siemag SMS 2000 at Mechel Open Joint-Stock Company.
In
2000-2001
, within the contract with the Kemerovo region government, together with the Dutch company
Hosokawa TER BRAAK
,
technology and equipment for production of candies at Kemerovo Confectionery Works, Open Joint-Stock Company, were delivered.

2000
, engineers PERMANENT K&M implemented an innovation technology for ladle lining using unshaped refractory mixtures manufactured by German company INTOCAST at TAGMET, Open Joint-Stock Company.
2001, PERMANENT K&M completed a capital overhaul of open-hearth and rolling-mill shops at TAGMET, Open Joint-Stock Company.
By 2003 the staff of PERMANENT K&M included 20 persons. By that time the company acquired the experience of rendering comprehensive support to enterprises, which was not limited to equipment, spare parts and consumables delivery. In cooperation with foreign partners, the company's engineers developed modernisation and technical re-equipment projects, as well as established new productions.

2008, PERMANENT K&M developed a modernisation project for a cement plant of Voskresenskcement, Open Joint-Stock Company, with adaptation of the controlled electric drive technology of German company Transresch (Germany) for rotating furnaces as a part of this project.

2008, PERMANENT K&M commissioned a frame-and-panel plant for assembly of wood structures for modern residential cottages in Voronezh.
_____________________________________________________
2010 is a starting point for PERMANENT Corporate Group.
Two companies were established:
Smazka Vysokogo Kachestva (High Quality Lubricants), LLC (SVK, LLC)

and

Hydraulics Technology Engineering, CJSC (HTE, CJSC)
The task of SVK, LLC is selection and adaptation of industrial fluids, lubricants and equipment for filtration and utilisation of cutting coolants at metalworking, chemical and cable productions. A warehouse in Moscow was organised for the purpose of prompt delivery of lubricants and fluids.

The task of HTE, CJSC is selection and delivery of mobile and industrial hydraulics, pneumatics of European manufacturers, as well as design and assembly of custom-tailored hydraulic systems. In years 2012 – 2013 the company implemented a number of engineering project in the oil-and-gas and shipbuilding industries.
_____________________________________________________
2012, engineers of PERMANENT K&M carried out adaptation of a technology for application of enamel coating on brass wire within the framework of technical re-equipment at the Denisovski Plant (Vladimir region).

2013, a new wiredrawing technology from Euroalpha S.R.L. (Italy) for aluminium wire was introduced at pilot plant Avial (Moscow) within the framework of production modernisation. This enabled increased output in aluminium alloy wire production.

2014, PERMANENT K&M implemented a technical re-equipment project at Shchuchyn Plant Avtoprovod, Open Joint-Stock Company, town of Shchuchyn (Republic of Belarus), with introduction of a semi-automated two-spindle coiling machine as a part of this project. A double coiling machine manufactured by Spirka Schnellflechter Berlin GmbH (SSB, Germany) winds copper wire to two spools simultaneously. Setting of coil pitch parameters and traverse width are available from the operator's panel. The machine is equipped with a wire break sensor.

2015, the company's engineers took part in a major project at Magnitogorsk Iron and Steel Works (Magnitogorskiy Metallurgicheskiy Kombinat) Open Joint-Stock Company, city of Magnitogorsk (Chelyabinsk region), and, according to the requirements specification of the plant, introduced state-of-the-art rolling-mill equipment manufactured by B.S.A. s.r.l. (Italy).
By 2018:

– over 70 employees of the corporate group
– number of Customers: over 2000 enterprises
– number of suppliers: over 5000 manufacturing companies
– number of partners (official representation / dealership): over 50 companies
– over 100 implemented project of modernisation and new productions


Specialisation of PERMANENT Corporate Group:
– industrial engineering (modernisation, technical re-equipment, renovation, establishing of new facilities)
– implementation of Russian and foreign technologies
– search, analysis, selection of industrial equipment, spare parts and consumables
– procurement of industrial equipment, spare parts and consumables, training, technology transfer